Summit Trail at mount Meron Autumn time,
Know the feeling when everywhere else in the country is hot but you feel fresh cold air? And the happiness of having bursting leaves under your feet? Do you like hiking on a narrow shady path in the wood?
All of these are found on the "Summit Trail". The 2-km-long trail, which winds inside Mediterranean flora typical to high areas, and is suitable for the whole family.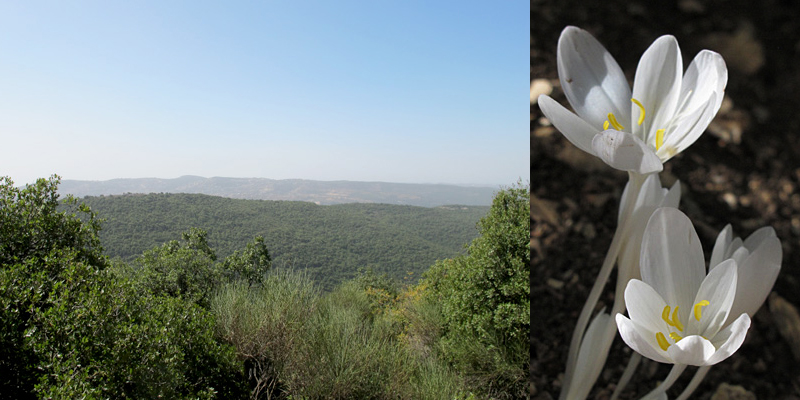 The track is enjoyable during all seasons. But the best time of year is the early fall, when the pink –white Colchicum troodi flowers and the Yellow Sternbergia clusiana flowers, begin to bloom. In the fall, also, many colorful tree wild-fruits can be found (see the gallery at the bottom of the article). Mount Meron is the highest in the Galilee Mountains. It is about 1200 meters above sea level and is a nature reserve. The summit trail was built as early as the 1960s.

Getting there:
Drive on Route 89 (Meron - Maalot Tarshiha), west of Hiram Junction (and east of Hurfish). Go up the road that climbs to the top of the mountain, pass the access road to Mount Meron Field School, and continue along the road toward the army bases on Mount Meron until the summit parking lot. (Picnic tables and tap water available.)

The Trail:
(Recommended direction for walking: East to West.) You can find your easier with this detailed hiking map of the trail.

Start climbing near the sign that stands on the Red marked Trail (and the Israel National Trail) on a kind of staircase.

The track is circular, easy, comfortable and fairly flat. It encircles the military base that is located on the mountain summit. We get views on all directions of northern Israel as we circle the around. Signs will explain what you see in each of the spectacular lookouts: from the Hermon to the Sea of Galilee, from Lebanon to the Lower Galilee. Within a few minutes, we will reach an altitude of 1180 m above sea level, enjoy cool peaks and leisurely stroll through beautiful woods. Besides the great views along the trail, there is a great variety of vegetation - Mediterranean groves, shrubs, and flowers (depending on the season).

Flora on mount Meron:
Vegetation and special flower bloom. On the mountain, there are Quercus boissieri (Aleppo Oak) and Quercus calliprinos (Palestine Oak) groves that are characteristic of high elevations in northern Israel. Crataegus azarolus trees are evident from the many reddish fruits that fall to the ground. The Crataegus aronia (Spiny Hawthorn ) trees also ripen with fruit and their height here is impressive. In other areas, the Pistacia palaestina trees shows its red fruits. In the autumn season, additional red clusters are ripening: The fruits of Arbutus andrachne and the Smilax aspera (Rough Bindweed). Many Reddish bark trees (Arbutus andrachne) grow along the side of the path. During autumn their trunks are peeled - a lovely spectacle. Another interesting fruit that matures now is the Rhamnus punctata . We will not forget that we came especially for the special October Wildflower Bloom. Those are the first flowering plants of autumn, they flower before leaves appear as they are geophytes (they have bulbs ) Just past the eastern lookout, at the side of the trail we will first meet the Yellow Sternbergia clusiana and after another half an hour walk, we will find plenty of Colchicum troodi on both sides of the trail.
Don't forget to return here in March for the unique orchid blossom.
Take a look at the gallery

Enjoy