When the Sea daffodil starts to blossom – we know summer is here. When the Squil strats to blossom' this is the signal that summer is coming to an end and autumn is knocking on our door... And also, that the end of the summer vacation is around the corner.
It's a perfect timing to tour the Mediterranean coastline.

We recommend two beaches for a short tour and bathing. The Olga Hills beach and Dor (Tntura) beach. To round up the tour spoil yourself in a restaurant with a soul in Beit Hankin.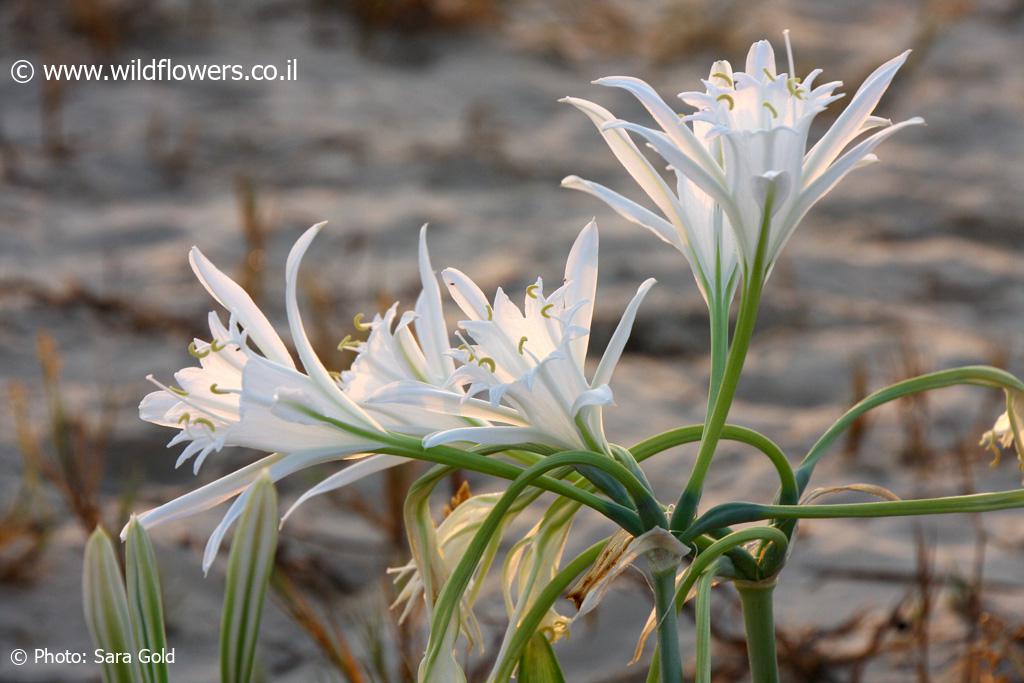 Our first Stop:
We start at Givat Olga beach, a lesser known an very d beautiful beach free from loud music, 4WD and swimwear fashion shows.

On the shoreline just ten meters from the water, hundreds of Sea daffodils bloom now in shining white.
We recommended to finish the visit with a healthy meal at the Olga Hankin house.

The Givat Olga neighborhood is located west of the city of Hadera, named after Olga Hankin, the wife of the well-known Yehoshua Hankin. The neighborhood is built on a limestone cliff that descends to the sea, sometimes from a great height, creating a beautiful and friendly beach strip. A quite spot with no surfers, Jeeps or rocket ball players.

In some places, the rock is eroded with mechanical deterioration or landslides, and soft sea sand covers it, allowing easy access to the water. They also serve as a platform where the coastal plants are now blooming.

How to reach the spot?

Exit Highway #2 to the directions of Givat Olga, drive west all the way until a big apartment hotel by the beach. Turn left and drive about 400 meters until the regulated beach (With showers and lawns). Ignore it and continue for another 150 meters until a parking space near the cliffs. (GPS 32.432885, 34.878043)
When you approach the cliff, nothing prepares you for the blossom of the hundreds of white flowers.

They are among the most beautiful large flowers in Israel . They open at dusk and emit a pleasant smell that perfumes the air. The flower is a member of the Narcissus family, its "food" is stored in onions clinging to the limestone rocks and stable sands.

The Sea daffodil blooms from June to october. They look fresh as if they had just come out of a bridal salon, ignoring the exhausting summer heat ...
These frowers have developed like other coastal plants, special survival mechanisms against the winds, sea spray and sand migration. For example, the seeds are coated with a special layer that allows them to float in the salty sea for a long period and stay fertile.

Other plants are now blooming on the beach: the Evening-primrose , with the yellow flowers, and the Sea Fennel(description below), But the Sea daffodil no doubt outshines them all.

Grab your camera! This is the place to shoot beautiful pictures! Continue north at the foot of the high cliff, and very soon you arrive at a "natural pool" created by a natural barrier of rocks that block the surging waves (depends on the hour of the day). The water is clear and Blue…. At the foot of the cliff there is plenty of shade during morning and the lifeguard's shack is quite close .

So arrive early and enjoy….. wade your feet or go in for a long dip! You can choose the regulated beach with wardrobes (free of charge) or this hidden and more romantic spot.

The sea got you hungry? No worries. The solution is around the corner. Get back to your car and drive back to the main junction, turn left and drive to the end of the road at the foot of the hill (GPS 32.443461, 34.878473).
Go up to the top of the hill overlooking the sea where you will find a special restaurant located in the historic Beit Hankin Tel : 04-621-4424
. (Hankin's House) )Approximately 30 steps must be ascended - without handicap arrangement ( Construction of the house built by Yehoshua Hankin for his wife Olga, was completed in 1938. She did not live in the house for even one single day.
The place honors her memory with pictures and nostalgia from the period.
While sitting on the porch, watching the panoramic view of the Mediterranean Sea, you will enjoy a healthy dairy meal (kosher) served in historic and nostalgic dishes collected with love and care by Arik who runs the place. No dish will be similar to the other. Our coffee was served with a silver spoon, engraved with a scene from Little Red Riding Hood. (including the basket and other details.) The place and the staff - ensure a great experience.

Second station:
Dor Beach - A short visit to the Glass Factory Museum - Tour of ancient Dor – The mysterious Snail that was used to produce the azure color to paint the tzitzit tassel and bathing in one of the most magical beaches in Israel.

To get to Dor Beach, drive on road #4 to the junction just north of Pharadis and Turn onto Route 7011. Drive straight all the way unit you reach the parking at Dor Beach) GPS 32.610846, 34.919898)

We will begin the tour with a visit to the Glass Factory Museum - located at Kibbutz Nahsholim. The museum is set in an impressive and historic stone building at Kibbutz Nahsholim.
It was built in 1891 by Baron Edmond de Rothschild as a glass bottles factory for the wineries "Carmel Mizrachi" located in the nearby Zichron Ya'akov.
The place survived for about 5 years and closed. The building stood abandoned for over 85 years and opened as a museum to host findings from the excavations at the nearby Tel-Dor.

Dor was a prospering port city since the 10th century BCE. Many finds related to the daily lives of its residents indicate that international trade has thrived here. The finds include luxury items imported from around the Mediterranean, some related to rituals, such as the Azure Snail, which is an unsolved riddle until today.

Some researchers believe that these snails were breed here. The Azure color is mentioned in the Jewish scriptures, was used to dye the coat of the high priest and the tassels of the tzitzit.
According to the Gemara, the Azure color must be derived from the blood of a snail rather than a similar color produced from plants.
At some point, probably after the Talmud's signature, the use of snail to derive the Azure color for the Tzitzit ceased and with it the tradition associated with the snail.

Allocate about one hour to visit the Museum. The museum also offers activities such as:
• Azure Snails - Searching the snail while diving in the bays and a coloring demo.
• Pottery
• Guided Tour to Tel-Dor (by appointment only)
• Mosaic Workshop
Opening hours: Weekdays 08:30-14:00, Friday and holidays 10:00-13:00 Phone: 04-6390950
Website: mizgaga.com

A tour of the Tel-Dor excavations:
We will approach the hill from the left (Southwest).
We will view small ponds. Some natural and some carved, that were used as a boat shelter and for the Azure Snail breeding.
The snails were used to produce azure paint to dye the high priest's coat and the tassels of the Tizizi. We will circle the hill and return to the car.

Allocate about one hour for the tour.

Those feeling more energetic can continue to walk along the beach all the way to Habonim beach (About 4 kilometers north) The town Dor (Dora) was a Phoenician port city mentioned twice in the Bible. In the Books of Joshua and Judges. Dor was one of King Solomon's administrative districts and later a Greek and Roman city.

Remains at the site indicate that the city was built from local rocks (Limestone). The excavations at the site were conducted by the University of Berkeley, the Hebrew University and the University of Haifa. A large part of the excavations was underwater.

The place is full of pottery fragments, remains of mosaic floors, round pillars and many walls indicating vibrant life. Most of the finds from the excavations are currently on display at the Glass Factory Museum.

Dozens of Sea Fennel plants are blooming along the route from May to September. The flowers are Green-Yellowish. They are fresh and create a sharp contrast to the arid environment.

Sailors used to sour and preserve their leaves for the winter days and their long journeys at sea.  

If you are up for a longer Hike:
• Option 1 – Leave another vehicle at Habonim beach that will return you to Dor. (4.5 Kilometers)
• Option 2 – A circular hike of 8 kilometers starting from Habonim beach. (Detailed description of the circular Dor Habonim Hike). At the entrance of Habonim beach you can get a map of the reserve with 8 signposted points of interest.
Don't forget to stock up plenty of water, use a hat with wide shoulders and wear shoes or sandals.

The coastal strip between the beaches of Dor and Habonim is about 4.5 kilometers long. It is a nature reserve, with clean and beautiful beaches scattered with coves.
The crashing waves against the limestone rocks and the white sand that drifted here from the Nile river, led to special rock formations in the shallow water that provide habitat suitable for certain marine life such as barnacles and Alga.

Other phenomena observed in the hike are Coves filled with thousands of seashells and the famous rock formation nicknamed the "blue cave". Bathing at Dor Beach: Admission fee required. There are showers and bathrooms.

Dor Beach (Tantura) is one of the most pleasant stretch of beach in Israel.
Several comfortable swimming coves protected by rocks create a sort of natural pools with clear water and no waves. Standing in the water will occasionally come to fish and tickling your feet .... A great place for extended relaxation and watching the sun set. (some say that autumn sunsets are especially beautiful!)
A great way to say farewell to the summer: Bathing, flowers and a little culture.

Translation curtesy of Israel by Foot https://hike-israel.com